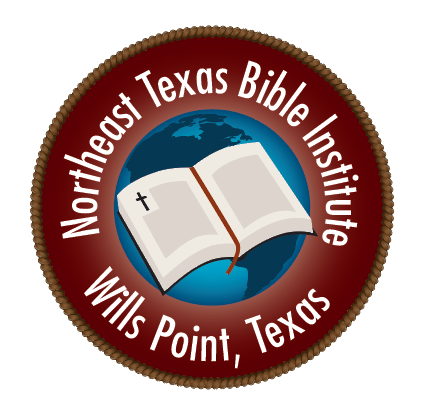 Northeast Texas Bible Institute...Is a work of the Wills Point Church of Christ. Classes are conducted at the building located at 302 Corky Boyd Blvd., Wills Pont, Texas. The school is a satellite of Sunset International Bible Institute, Lubbock, Texas.

Northeast Texas Bible Institute is under the direction of the elders at Wills Point Church of Christ. The administrators are Paul Bailey and Russell Harris.





Class Participation Levels Available:


Level 1 - Audit
Classes are taken strictly to enhance your knowledge of God's word. Audit students may receive a "Certificate of Recognition" from Sunset International Bible Institute for each course completed and a "Certificate of Accomplishment" upon completion of 40 courses.
Level 2 - Certificate of Biblical Studies
Some memory work is required. Learning is reinforced by taking tests.  Upon completion of the 40 courses, the student will receive a "Certificate of Bible Studies" from the Sunset International Bible Institute External Services Division.
Level 3 - Biblical Studies Degree Program
More memory work, research papers and testing are required.  Upon completion of 20 courses, at the Bachelor level, the student may apply for an "Associate of Biblical Studies Degree."  Upon completion of 40 courses and all other requirements, the student will be awarded the "Bachelor of Biblical Studies degree" from the Sunset International Bible Institute.


What to expect at Northeast Texas Bible Institute


* A school for advanced Bible education
* You are welcome regardless of your religious or cultural background
* Classes are Bible based with the Bible as the primary text book
* Classes are conducted in the evenings and on Saturdays to accommodate differing schedules
* Students may select to enroll in one of three different levels of difficulty
* Classes may be audited for free
* Men & women are welcome
* Classes are taught by qualified instructors with years of experience